I love sharing practical information about how small business owners can get really clear about their businesses and attract more clients.
Business Growth and Marketing Advice
TOPIC: Creating Space for Your Ideas
For: GTD Summit, Amsterdam, June 19th & 20th, 2019
TOPIC: Relationships Are the True Currency Panel
For: WIT Regatta: Amsterdam, November 2, 2018 Panelists: David Allen and Awura Abena moderated by Melody Biringer.
TOPIC: Visibility Panel and Strategic Alliance Partnerships Breakout Session
For: Rise & Lead Summit: the Hague, September 27, 2018

TOPIC: Caring is the New Currency
For: The Next Web: Amsterdam, May 24, 2018

TOPIC: How to Connect With More of Your Ideal Clients
For: SPARK Conference: Amsterdam, March 27, 2018

An interview at the end of the conference about the next step for female entrepreneurs
TOPIC: Mobile Careers and Entrepreneurship Panel
For: Families in Global Transition Conference: The Hague, March 8-9, 2018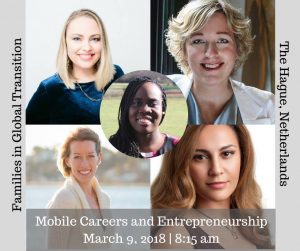 TOPIC: Business Model to Marketing Strategies
For: SPARK Retreat: Loenen aan de Vecht, September 26, 2017
My session received a 93% satsifaction rating.
TOPIC:  How to Build Powerful Strategic Alliance Partnerships on the Move    
For: The FIGT Conference: The Hauge, March 24, 2017
Marketing one-to-one works and it takes time. If you create Strategic Alliance Partnerships with people in your mobile tribe who serve the same type of client you do, but who offer a different service, you will be able to market one-to-many and grow your business faster with less effort. In this kitchen table session, Stephanie will teach you exactly how to do this.
TOPIC: Turn Your Ideas Into Action 
For: CRAVE: The Ultimate Co-Storming Mashup: Amsterdam, NL; November 15, 2016
TOPIC: Pricing & Packaging Tips to Create a Business Model That Serves You and that Your Clients Love
For Spark 2016: Conference for Female Entrepreneurs: Amsterdam, NL; June 14, 2016


TOPIC: Visibility Rules: How to Stand Out in a Noisy World
For Spark 2015: Conference for Female Entrepreneurs: Amsterdam, NL; June 16, 2015
TOPIC: How to Stay in Touch Without Stalking
For Accelerator Nederland: Rotterdam, NL; May 12, 2012
Video summary of the day. You'll see me at the 1:10 mark.
TOPIC:  Visibility Rules: Stand Out, Get Connected & Be Remembered
For: American Women's Club of Amsterdam, Amsterdam, NL; March 5, 2012
TOPIC:  How to Use Social Media to Grow Your Business
For: Amsterdam American Business Club – Presented with Erno Hannink,  Amsterdam, NL; April 18, 2011
Participant Comments:
"Great basis introduction"
"Really enjoyed it, You Rock!"
"THANKS! Your preparedness & focus is much appreciated"
"Dynamic – a lot of great tips/ideas"
"Nice in terms of interaction"
"Great intro to social media"
TOPIC: How to Use Social Media to Improve Your Association

For: Association of American Clubs 9th Annual Conference; October 14, 2011
TOPIC: Dragon's Nest: Business Advice for Entrepreneurs
For: Connecting Women, the Hague, NL; May 9, 2011
TOPIC: Keeping it Simple in Your Business
For: CRAVE Amsterdam – Amsterdam, NL; February 21, 2011
Excerpt from the talk about keeping your Marketing Simple:
TOPIC: 7 Steps to Attract More Clients in Less Time
For: Professional Women's Network – Amsterdam, NL: December 13, 2010
Katie Miller shares her action steps after the workshop
Cristina Stoian of Cristina Stoian Portraits shares her big takeaway from the workshop
Additional Participant Comments:
"Great atmosphere – straightforward style of delivery of information – thanks Stephanie!"
"It was a very valuable evening.  I learned new things!"
"Great! Thanks! Great concrete tips and challenges."
"In the time plenty of topics were covered.  Really interesting."
TOPIC: 7 Steps to Attract More Clients in Less Time
For: The Amsterdam Business Lunch – Amsterdam, NL: May 20, 2010
TOPIC: Dragons' Nest Panelist
For: Connecting Women – the Hague, NL: May 3, 2010
TOPIC: 7 Steps to Attract More Clients in Less Time
For: Connecting Women – the Hague, NL: May 4, 2009
"Was very useful and clear"
"I can use all the help I can get!"
"I need to get more clients"
"She gave tools to actually work with"
"Great info, great speaker"
"It was useful to me, I can really use this"
"It was interesting, practical, well presented"
"It improved my knowledge"
"On the money, interactive, connecting"
"It was very informative for such a short time"
"It gave me lots of food for thought"
"Interesting, 'eye-opening'"
"Engaging speaker"
"Very useful info, lovely speaker, very qualified"
"It was sincere and innovative"
TOPIC: 7 Steps to Attract More Clients in Less Time
For: Connect International Business Club and LINKS – Groningen, NL: May 24, 2007
"A very useful workshop.  Well prepared and clearly thought out."
"This was extremely worthwhile, thank you. I liked your genuineness and that you were really here with us."
"Very good, I learned a lot and it really pushed me in the right direction."
"I thought it was well balanced."
"Great presentation, helpful tips."
TOPIC: How to Start a Business in the Netherlands
For: Connecting Women – the Hague, NL: November 7, 2005
"It gave sound and extensive information."
"It was inspiring and informational."
"It was very interesting, well presented & relevant."
"Good speaker, very structured."
"There were useful tips and info."
"It made me think about some things I need to address about my business."
"Great speaker, great info."
"It was practical with tons of helpful tips."
"It is fresh and friendly."
"Gave me new ideas and tips."
TOPIC: Keynote Presentation: Being First in Business
For: MBA Students, de Haagse Hogeschool – The Hague, NL: February 21, 2005
TOPIC: How to Start a Business in the Netherlands
For: Urban Learning – Amsterdam, NL: April 14, 2005
"Stephanie was great."
"Provided useful ideas."
TOPIC: Women Leading Change
For: Professional Women's Network – Amsterdam, NL: December 13, 2005
Networking
TOPIC:  Overcoming Networking Obstacles
For: American Women's Club of Amsterdam – Amsterdam, NL: May 6, 2009
TOPIC: How to Speak to Anyone, Anyplace, Anytime
For: International Training for Communication (now PowerTalk) – President's Weekend – the Hague, NL: October 28, 2006
TOPIC: International Networking
For: NVP – Netherlands Association for Personnel Management and Organizational Development (Nederlandse Vereniging voor Personeelsmanagement & Organistatieontwikkeling) – Driebergen, NL: March 30, 2006
"Clear and simple, good practical tips."
"Gets you thinking again."
TOPIC: How to Talk to Anyone, Anytime, Anywhere
For: Urban Learning – Amsterdam, NL: April 6, 2005
"It was a lovely evening. You do it so lightly and clearly. "
TOPIC: Speed Networking Event
For: Professional Women's Network – Amsterdam, NL: April 21, 2010
TOPIC: Speed Networking Event
For: Professional Women's Network – Amsterdam, NL: November 18, 2009
TOPIC: Speed Networking Event
For: Professional Women's Network – Amsterdam, NL: November 19, 2008
TOPIC: Speed Networking Event
For: Professional Women's Network – Amsterdam, NL: January 23, 2008
Presentation Skills
TOPIC: Presentation Skills
For: Ministry of Economic Development (EVD) President's Program with Russia – the Hague, NL: May 15, 2007
TOPIC: Presentation Skills
For: TiasNimbas Business School – Utrecht, NL: November 22, 2006
TOPIC: Presentation Skills Workshop
For: University of Leiden MBA Program – Leiden, NL: October 13, 2005
TOPIC: Presentation Skills Workshop
For: University of Leiden MBA Program – Leiden, NL: June 15, 2005