Fellow Business Owner, 
Are you having a hard time trying to get it all done and make the money you want in your business?
Wish you had the right offers and felt confident talking about your business? 
Would you like a simple way to find and approach clients to earn the profit you really desire?
Or are you getting the income you want but it's costing you too much time and energy?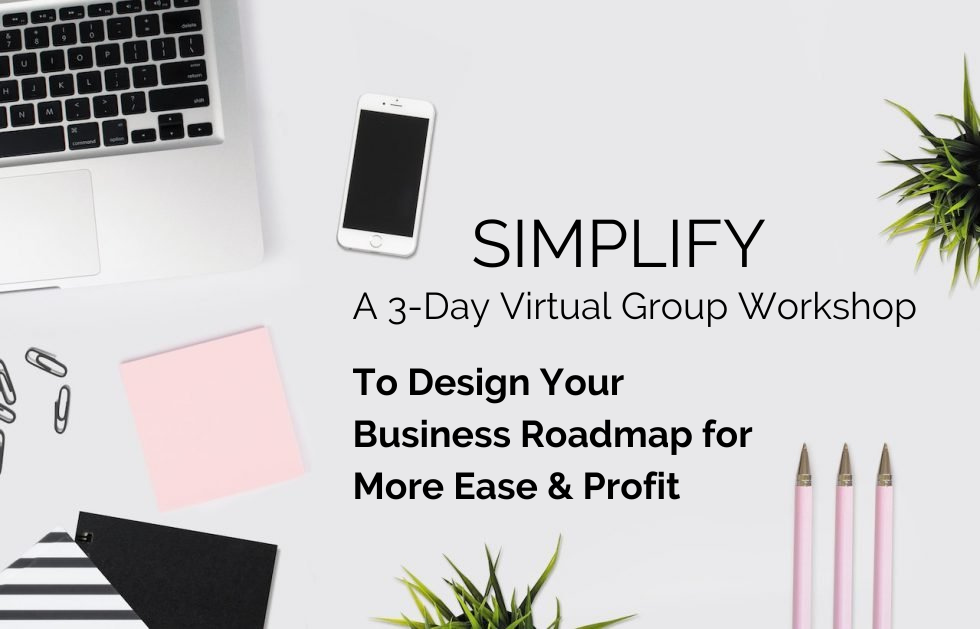 [Prefer to learn more about the Workshop by listening? Here ya go.] 
These are the exact issues we're going to solve at: SIMPLIFY A 3-Day Virtual Group Workshop to desgin your Business Map for more ease and profit.  
-> NOTE: Registration closes on Monday, January 30th at 5:00 pm Dutch time (CET)
This Workshop is about stepping into the next level as a CEO to set aside time t work ON your business so that you'll have the clarity to make essential decisions that will simplify and align your business so you can have more ease and income.
And, I will be there to support you by answering questions and brainstorming ideas for you.
You will also get input and inspiration from the other participants because there is so much we can learn from each other.
We will refine and leverage what you've already created using structured questions, example ideas, and templates provided in the knowledge base you will have access to in addition to the live support from me each morning and afternoon. 
So that when the workshop is over you'll be excited to promote and deliver the offers that you love the most. And you'll have a clear road map for how to talk about your business and the steps to take to connect with potential clients. 
And you'll do it all with more joy and ease and without working way too many hours. 
Save the dates now, Wednesday, February 1st, Thursday, February 2nd and Friday, February 3rd, 2023.
Instead of leaking energy every week throughout the year and working on the wrong projects, changing focus, or switching tactics -in 3 days, we'll make a Business Map that you can easily follow for the rest of the year saving you time and energy every day.
You may be thinking you don't have three, free days.
The truth is, you're already spending weeks doing this work. It's just separated into an unplanned hour here, a wasted few hours there, rethinking the same offer – again, or trying yet another new marketing strategy.
If you consciously choose to prioritize this time now, you will save time in the long run and it will be time enormously well invested.
My signature planning approach is on simplifying three parts of your business, your: 
1. Money – To make more profit by choosing to deliver offers you and your clients love. 
2. Messages – To make it easy to talk about your business. 
3. Marketing – And to make sure your marketing fits for you and is doable.
Come gather together, with me and an intimate group (maximum 20) of our peers to brainstorm, support each other, and take action towards creating the business you really want to have.
We all need to strip things down to the basics at a certain point to reconnect with our purpose and make sure that we can run our business with the least amount of friction and the most amount of joy.  
And in the spirit of the theme of this Workshop, I'm keeping this page simple.
WHERE
You will have access to the Private Pop-Up Facebook group the day before the retreat starts on Wednesday, February 1st and continues through Friday, February 3rd, 2023.
As soon as you make your payment you will have access to all of the supporting knowledge base which is hosted on the Thinkific platform.
That way, if you feel like it, you have time between now and when the Workshop starts to become familiar with the framework and questions and let your ideas marinate.
Our Secret, Private Pop-Up Facebook Group will open the day before we start and will be active for one week after we finish the workshop. After the group is archived on February 9th you will still have access to the content, you just won't be able to post.
You can attend from the comfort of your own home. Or if you want a change of scenery for inspiration you could go to a café. And if you really want to get away from it all you can head to a cool location of your choice.
WHEN
Three magical days to focus ON your business with support from me and our peers.
You can take a long, lunch break and/or a walk anytime it feels right for you. If you're in the flow you don't want to stop for an arbitrary time.
Wednesday, February 1st, 2023 10:00 am – 4:00 pm Dutch time (including a long, lunch break)
Thursday, February 2nd. 2023 10:00 am – 4:00 pm Dutch time (including a long, lunch break)
Friday, February 3rd, 2023 10:00 am – 4:00 pm Dutch time (including a long, lunch break)
Psssst: If you can't make one of the days or part of a day, don't let that stop you from joining us. You will have access to the group and videos until February 9th so you can find a day between the 4th and 9th to do your work.
WHAT
This workshop is designed to increase your peace and your profit by simplifying your business.
You will have room to think deeply about your business and make key decisions that will have an immense impact on your business by making it easier for you to reach your business goals.
You may have a big breakthrough or you might simply make small tweaks that have the power to shift everything.
Things Like:
Decide to stop doing something that drains you.
Choose to increase your prices.
Reduce the number of offers you currently have so you can have more focus.
You and a group of your passionate business owner peers will be guided by me virtually throughout the three days.
Participants will also share ideas and get inspiration from other attendees (maximum 20 participants).
How It Will Work
On each day of the three-day Workshop, I'll go live on Video in the group in the morning for 30 minutes and in the afternoon for 30 minutes.
In the morning I'll review the focus for the day and go over the intentions. In the afternoon, we'll review and wrap up.
As soon as you make your payment, you will immediately get access to the curated knowledge base in Thinkific which is the foundation of the Workshop. 
That way, you can start thinking about your business now (if you want to do some pre-work) in preparation for the workshop.
The majority of the time each day you will actively be working on your business, on your own, with access to support when you need it in the Facebook group. You will have a structured process and action items for each day that you will have access to on the Thinkific platform (see details below). 
The Focus for Each Day
Day 1 -> HOW YOUR BUSINESS MAKES MONEY (Business Model): Business Model Overview, Business Model – 7 Key Decisions, One Page PDF Summary, Business Model Examples, Additional Business Model Resources
Day 2 -> HOW YOU TALK ABOUT YOUR BUSINESS (Marketing Messages): Marketing Messages Overview, Marketing Messages – 7 Key Decisions, One Page PDF Summary, Additional Marketing Messages Resources
Day 3 -> HOW YOU CONNECT WITH YOUR IDEAL CLIENTS (Marketing Strategies): Marketing Strategies Overview, Marketing Strategies – 5 Options, One Page PDF Summary, Additional Marketing Strategies Resources
Questions will be asked and answered in the Pop-up Facebook Group so we can all learn from each other.
To make sure everyone gets feedback and to keep it intimate, this Workshop is limited to a maximum of 20 participants.
And what happens in the Workshop, stays in the Workshop. It will be a safe and confidential space.
WHY I CAN HELP YOU
Hey there, I'm Stephanie Ward, a passionate Meaningpreneur who loves to support inspired business owners to create sustainable businesses so they can make a living doing what they love.
I've been working with Business Owners around the world for over 20 years and know what it takes to create prosperous businesses.
INVESTMENT
500 euro (plus Value Added Tax VAT/BTW for EU folks)
If you're surprised by how low the investment is and thought it would be much higher, it could have been.
But I wanted to make this Workshop accessible. And if I run it again (not sure if I will, for real – it depends on how this one goes), the price will definitely be higher.  
BONUS: The first 10 people who register will be invited to join me for a one-hour live Zoom call two weeks after the Workshop ends on February 16th from 10:00 – 11:00 am Dutch time to answer any additional questions you have. It will be recorded if you can't attend live or want to listen again.
If you prefer one-on-one over a group experience, I also offer a VIP Business Clarity in a Day to SIMPLIFY your business for 2500 euro (plus Value Added Tax VAT/BTW for EU folks).
SAVE YOUR PLACE OR ASK ME A QUESTION
I'd love for you to join me and an intimate group of our peers to work together to simplify your business. It's going to be magical!
Complete the short form below, only 3 questions (which includes the option to ask any questions you have) and we'll take it from there.